Earlier this month we announced the results of the Season 6 Community Vote pertaining to which cards received Approved status, which you can read here. Today I'm going to share the equally important results of the IACP survey section of the Community Vote in which voters shared with us what they do and don't want to see in the IACP moving forward.
We asked Voters to share with us their preferences for what methods they want to see IACP use to expand and update Imperial Assault, as well as what kind of content they would want to see in future seasons, as well as what they would want to see avoided as content in future seasons.
Something that I've had problems with in the past is that we tie these surveys to the Community Vote, but really we want every Imperial Assault player with an interest in IA Skirmish and the IACP to tell us what they want to see from the IACP, and unfortunately we know that less enfranchised players avoid the Community vote for various reasons, which means they also miss out on this very important survey. So I'm happy to announce that we are going to be keeping a general IACP survey open continuously between seasons, and with each season we will open up a new survey. We ask that everyone take the survey only once between each season so we get a good variety of replies, but we will allow players to retake this survey every season to allow for evolving viewpoints from community members.
https://docs.google.com/forms/d/1nvx_wsNuzEGHnUv0OixAzlnG2LOT0fzLHdd0mLc0f90/edit?usp=sharing
With that out of the way, let's take a look at Season 6's survey results. In the past I've struggled to figure out a way to share the results of these surveys in a way that is understandable to everyone, as we do 2 different types of surveys that have overlapping questions, but I think I've found a way to make these survey results presentable and coherent.
What Methods do you find Acceptable for changing Imperial Assault?
We listed a lot of different ways that the IACP could potentially alter and perhaps improve Imperial Assault. Things like how we change cards, updating the rules, organized play, etc. Many of these are things that we have already decided we like doing or don't want to do, but we make sure to include them on the survey anyway so we can make sure the IACP's stance on these types of changes still matches what the community wants to see.
Below are all of the suggested change methods from the survey, sorted in order of most popular to least popular.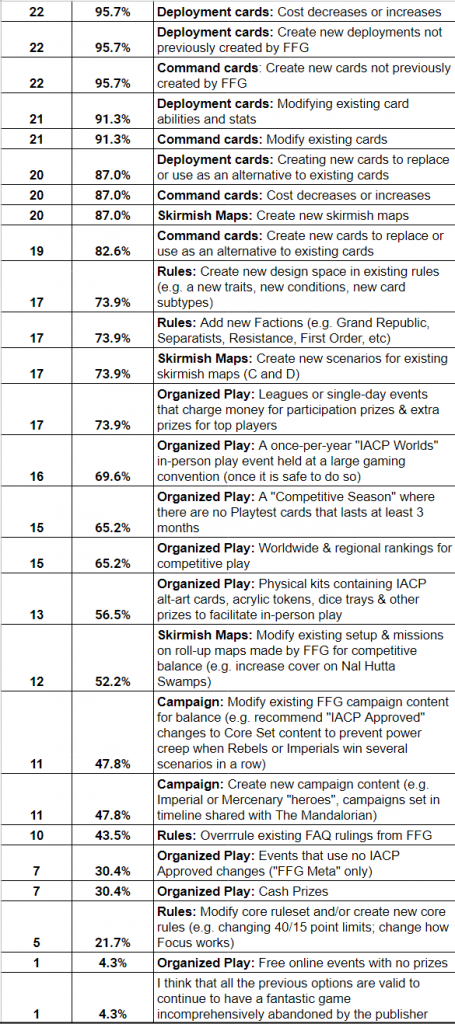 Things we are already doing a lot of, recosting and redesigning existing deployment cards and command cards as well as making new cards, are very popular thankfully. Surprisingly, a majority of voters want to see the Steering Committee take a crack at creating new skirmish maps, a much more difficult task than designing a new deployment card, but certainly one that will eventually need to happen once we run out of the balanced FFG skirmish maps. Less voters were interested in us adding new missions to existing maps, and only half of voters want us to try adding new missions to existing maps.
In terms of preserving the games rules, modifying the Core rules of the skirmish game remains very unpopular, and is something we are going to continue to not do so long as we can. Overruling official FFG FAQs and rulings was also fairly unpopular, though a bit more split. However, creating new rules and design space on top of existing rules seems to be quite popular.
For Organized Play, we can see that most of our voters are excited at the prospect of an in-person Worlds tournament for IACP, and that most of our voters also like the current system where there is a time period after cards are publicly playtested by the community where competitive play consists only of IACP Approved cards. Leagues/Tournaments that charge and entry fee and provide prizes to the top players are also fairly popular. Less of you are interested in events with cash prizes, or events that are FFG-only cards, and almost nobody seems to want free events with no prize pool.
About half of you would like us to start working on Campaign material, which I will say right now, that we don't have any plans to do, but maybe that's something we could work on in the future with truly passionate campaigns fans out there.
Number of Voters that Mentioned a Card for Revoting
We put a Short Answer question at the start of the Community Vote where we asked voters if there were any IACP approved cards they thought should be revisited using the new voting system of fully approve or partially approved. Here's the cards that were mentioned and how many voters mentioned them on their ballot:
| | |
| --- | --- |
| Davith | 5 |
| Wing Guard | 5 |
| Jedi Luke | 4 |
| Scout Troopers | 4 |
| Blaise | 4 |
| Rancor | 4 |
| Gamorrean Guard | 4 |
| None | 4 |
| Royal Guard Champion | 3 |
| EWeb/Overwatch | 3 |
| Leia | 2 |
| Fenn | 2 |
| Saska | 2 |
| Grand Inquisitor | 2 |
| Assassinate | 2 |
| Chewbacca | 2 |
| General Weiss | 2 |
| Shoretrooper | 2 |
| Bossk | 2 |
| AT-RT | 2 |
| Rebel Troopers | 2 |
| Yoda | 1 |
| Kayn Somos | 1 |
| 4-LOM | 1 |
| Dengar | 1 |
| Shyla Varad | 1 |
| Obi-Wan Kenobi | 1 |
| Verena Talos | 1 |
| Hero Luke | 1 |
| Massive figures | 1 |
| Deflection | 1 |
| Whistling Birds | 1 |
| Apex Predator | 1 |
| Get Behind Me | 1 |
| Aphra | 1 |
| HK-47 | 1 |
| K-2SO | 1 |
| Under Duress | 1 |
Content People Want in Future Seasons
I want to preface this entire section by saying that just because something is on this list does not mean that we are going to be rushing to release it in the next season. Making changes and designing cards for IACP is a process that takes a long time, especially when its a change that is radical or wide in scope, and there are only so many changes we can introduce each season without overwhelming people. Basically, don't read this next section as a "things the Steering Committee are definitely going to put in a future season", but more as this is a guide we will be using as we continue to to work on new content to make sure that we are staying in line with what we think the community would enjoy and avoiding things we think the community would not enjoy in the game.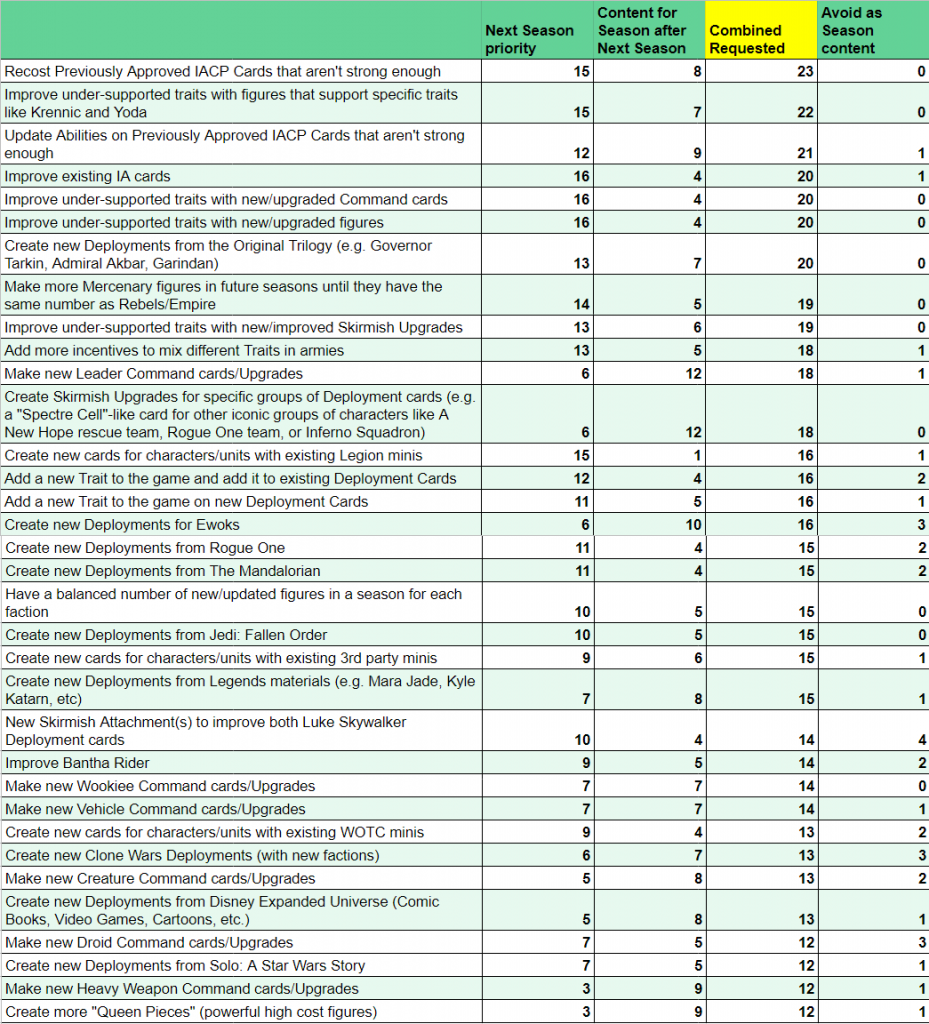 Here are the things from the list we put out that 50% or more of voters said they either wanted as a priority for next season or as content in a future season after the next one, and had few or relatively low numbers of voters saying they did not want that thing to appear in a future season.
There's a lot of possible content listed here, some we might already have plans for, some we might not. I'll let you see for yourself what people are interested in for content or future seasons.
Content that People DON'T Want in Future Seasons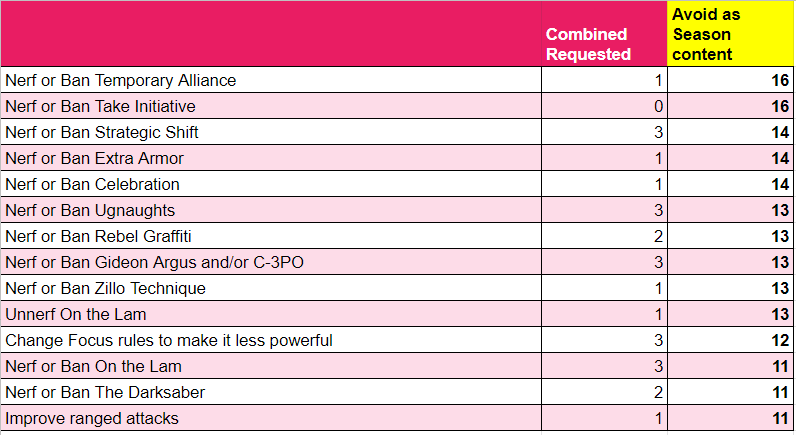 And here is the content that a large number of voters out of the 23 said they did not want to see in future seasons. A decent number of people still seem to be strongly against nerfing or removing keystone cards from the meta like Temporary Alliance and Zillo Technique, and also that want to keep Focus working the way it is. We also got a lot of "No Opinion" votes or these options, but very few people willing to say they were in favor of testing any of these nerfs. I should mention that these aren't cards that the SC necessarily thinks are a problem currently, just that these are cards that in the past have been brought up by 1 or more players as possibly being problematic for the game in one form or another, so we wanted to gauge people's opinions on these cards.
I will point out that I chose to leave de-nerfing Assassinate off of this particular survey of possible cards to de-nerf. That's because the survey already had so many items people needed to read through, I needed to make cuts, and it felt like the Season 5 Community vote was recent enough where >40% of voters asked to re-nerf Assassinate again after playtesting with it un-nerfed for 3 months, and I figured people would note it in one of the first few question during this survey. De-nerfing Assassinate will be listed as an option on the permanent survey though.
Controversial Content that Split the Votes

These topics were controversial in the sense that there was a 30% or less difference between the number of voters who wanted to see this in future seasons and the number of voters who did NOT want to see these in future seasons, without looking at the voters that had no opinion. The closer the Delta % is to zero, the more the voters are split on whether they want to see that included in the future.
Mining possible new content from Star Wars: Visions, and from the sequel Disney Trilogy ep 7-9 seemed to have voters pretty evenly split. There were more voters in favor of us making new deployment cards that don't have existing minis available than against, but the divide was close enough to be worth mentioning.
It seems certain traits still have fans that want to see them supported while other voters seem to feel those traits have gotten enough support at this point. Same for melee attacks. Regular (grey) deployments had more people in favor of supporting them than against, so we may start looking at how we can start seeing a little more grey deployment action in the meta, hopefully without creating the next Ugnaught or Carolina swarm.
I should mention the elephant in the room, Clone Wars content. While it's on this list as controversial, this particular item is about introducing Clone Wars content using the current tri-faction system, whereas in the list above, introducing Clone Wars content with new factions is much more popular and less controversial, with 13 voters in favor of that method of introducing Clone Wars content and only 3 against.
High Enthusiasm for Unopposed Content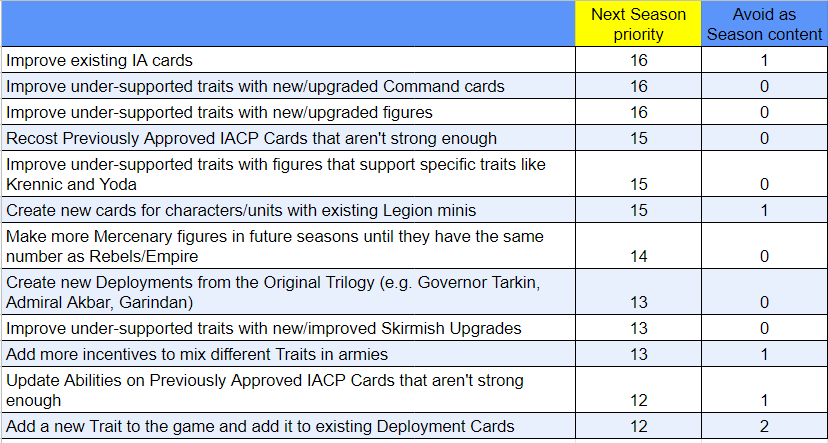 This final list is a list of content that received the "Next Season priority" vote, so the more enthusiastic vote in favor of inclusion, and very few if any opposing votes. I think this type of metric is an important one to look at, because it tells us what people are most excited about seeing that is also the least offensive to other players, which means we should probably feel very confident about including any of these things in future seasons and that it will make a number of people happy without making very many people unhappy.
---
We'd love to hear your thoughts about the results of the Season 6 Community Vote. Did these votes match what you would have voted for? Was there anything listed here that you would have voted differently on? Let us know in the comments below, or better yet, use the link at the start of the article to complete an IACP Community Survey for us.
Again thank you to everyone who participated in the Season 6 Community vote. To everyone that voted and everyone that didn't vote but would like to share your opinion about how we should be shaping the future of IACP content, I encourage you to take the survey linked at the beginning of this article.