The time has come! As winter approaches ever faster, there is but one word which sparks every competitive gamer's joy (no its not Christmas).
Regionals
That's right! Regional Season is rapidly approaching. And this year, not only will IA players be able to partake in FFG's Regional Championships. The IACP has also organised Regional Kits, complete with promos of much variety (more about that shall be teased later, but what we'll already leak is that we'll be having Promo cards for Top 16 and Top 8), and of course, a Glass Trophy for the winner!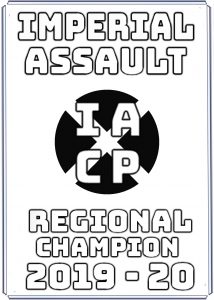 Regional kits in themselves will be a certain cost, but as some tournaments may not wish to grab one of these Glass Trophies, the kit in itself will be cheaper with the trophy being an added extension, allowing for events to be hosted regardless of budget!
However! There will be a deadline for any Regional kits which request Trophies. On the 11th October 2019 all requests for Trophy-inclusive Regional kits will be counted up, and orders will go to the supplier. So, make sure you fill in the form linked below quick before time runs out! Note orders for non-Trophy Regional kits will still be permitted after this date. Kits are expected to arrive from the supplier by the 1st November 2019, and dispatched thereafter.
So what are you waiting for?! Applications for Pre Orders can be sent using this link https://ia-continuityproject.com/event-submission/. The date or venue of your Regional does not need to be confirmed if you want a Trophy, as we understand that the deadline is short. So you can place your order, and decide after the deadline when you'll host it. We will however need to have a confirmation of the Region you will be representing to prevent double-ups. If you have any queries about pricing, dates, or anything, feel free to comment below or contact us by emailing iacontinuityproject@gmail.com. Please send us an email to confirm that you wish to acquire a Trophy in your kit.
Here's to a glorious Regional Season!