The Steering Committee is starting into our busy season: the end of Season 2 and start of Season 3. We're excited to find out what changes you wish to make IACP Approved and to see your reaction to the next Season's content. We did want to take a moment to update you on some news that might interest you, including the a new addition to the Steering Committee.
Patrick Christians Joins the Committee
Patrick took the Imperial Assault world by swarm when he won the 2019 National Championship at GenCon in Indianapolis, Indiana. His innovative Jawa Swarm list that focuses on VP generation was a fresh breath in the FFG meta. You can read his detailed battle report on FFG's Skirmish forums. Patrick has been involved with IACP testing and feedback since the inception of the project, and we are so excited to have him join us.
French & Spanish Official Changes v2.2 Documents Now Available
We apologize again for the delay, but our translators have worked hard to produce the official documents for version 2.2 of our Official Changes, which includes our tweaks to Boba Fett & a few other Season 2 card. In the next several days, we will also have our first-ever Italian translation of the Official Changes. Our French players will also appreciate a PDF containing printable cards in the French language. Check out our Official Documentation page to download what you need to play IACP.
Season 2 Playtesting Ending November 3rd – Submit Your Feedback!
Only 3 weeks remain for our Season 2 Playtesting period. Starting November 4th, we'll open up the polls for two weeks to determine which Season 2 changes will become IACP Approved, a permanent fixture in the IACP game. In order to ensure we have the best versions of the cards available for the vote, we want your playtest feedback: Use the Season 2 Playtest Feedback Survey to share your data with us.
Check For IACP Organized Play Events In Your Area
If you haven't noticed, we've updated our blog to better display and organize Organized Play events happening world-wide. You can see all upcoming events on the main IACP page or check out the Upcoming Events page.
If you're wanting to organize an IACP event, whether it be online or at a physical location, you can send us details about your event using our Event Submission form. We'll take your information and post the event in our calendar system. We support multiple languages and time zones and want to do everything we can for you to have a successful event. (And we'd like for you to check out our Regional Kits & Community Kits to use for prize support for your event!)
Event Kits Available On or About November 1st
The Steering Committee has commenced production of our first wave of Event Kits. We've finished our pre-orders for the Regional trophies, but you still have a chance to request one or more of our kits. We're still working on getting samples of the kits to share with you all, but we can share previews of two of card arts that will be used. This custom art was created by Mary Slaymaker & Deirdre Scott. For more information about obtaining a kit, send us an email: iacontinuityproject@gmail.com.
Ahsoka Tano will be featured in our IACP Regional Kit as a Top-16 prize. The kit will feature 20 of these cards: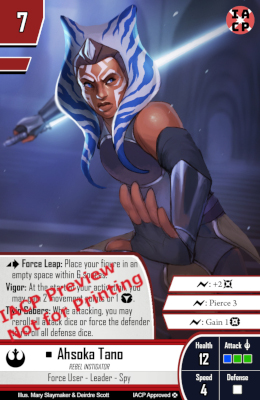 Shyla Varad is the participation prize (with 10 cards to distribute among participants or for a Top-8 prize) offered in our Community Kit: